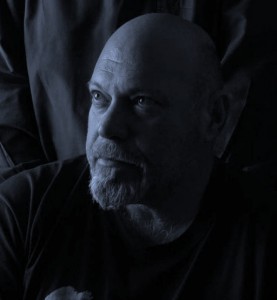 Gianni Maran
was born in 1958 in Grado, FVG, Italy.
He has always cultivated his love for painting and at the age of 10 he goes to the studio of Aldo Marocco, to observe. The painter will later become his drawing teacher.
At the end of the 70s he meets the Gradese poet, Biagio Marin, who will widen his artistic horizons, inspiring him to develop his art around the theme of his beloved island..
In the early 80s he inaugurates his first personal exhibit.
He continues his artistic studies not only as a painter and sculptor, but also as a costume scenographer and director of theatrical plays.
In the mid 90s he begins his artistic research and collaboration with the Maestro Mauro Manuel Musiani, the ceramist and designer, which leads to Marans creation of tridimentional works of polychrome ceramics inspired for the most part by mythological subjects. This is also the glass period, where the Aquileian masters of glasswork and their ancient techniques are studied in depth and Maran produces unique works in glass fusion.
In 2000 Maran applies his art to short film productions. In 2003 his "Ala de Vita" participates in many national and international film festivals, winning first prize as best film at the Reggio Calabria short film festival, with Ermanno Olmi who praises his work.
In 2010 Maran is the author of a cartoon for the CGN society "Il pesce che vola"(The Flying Fish).
He has presented personal exhibits of his paintings and his sculptures in many different cities in Italy, in private galleries and in public buildings, with great success both of public and critics.
He has recently participated in international exhibits in Prague, Stuttgart, Helsinki, Istanbul, Copenhagen, Buenos Aires, Montevideo, Hamburg, Vilnius, Sydney, Cologne, Vienna, Dubai, Barcellona and Frankfurt.
His work is present in important collections in Italy and in other countries.
He can be found in the CATALOGO D'ARTE MODERNA  (Italian artists from 1900 to the present) edited by Mondadori, ENCICLOPEDIA D'ARTE ITALIANA and in the INTERNATIONAL CONTEMPORARY ARTISTS New York.
He was conferred the Premio di Rappresentanza by the President of the Italian Republic, Giorgio Napolitano in 2010.
In 2013 he was conferred the Sigillo della Città di Aquileia for his artistic merits.
.